If you are interested in Japanese style wedding with a Kimono & a Hakama, how about experiencing a traditional ceremony for a marriage at a Shinto Shrine ( Shinzenshiki ) or Zen Buddhist Temples ( Butsuzenshiki ) for renewing wedding vows ? A Kimono for a bride / wife and a Hakama for a groom / husband are Japanese traditional dresses. You can enjoy this Japanese traditional wedding ceremony after / before enjoying a hot spring ( Onsen ) or a ski at snow resorts such as Hakuba, Nozawa Onsen, Niseko, Rusutsu, Kiroro etc. Of cource on your romantic honeymoon as well, but how about as a surprise gift on your vacation in Hokkaido or Nagano? It will be a very special and unique experience in your lifetime.
Hokkaido
Hokkaido Jingu Shrine, Sapporo
Other Shrines in Hokkaido
Nagano
Zenkoji Temple
Karuizawa-machi Suwa Jinja
Other Shrines in Nagano
Kanagawa
Hakone
Mt.Fuji View
Kamakura
Yokohama
The above are just a few examples of locations. Please kindly let us know the other locations
Traditional Japanese Kimono Wedding at a Shrine / Temple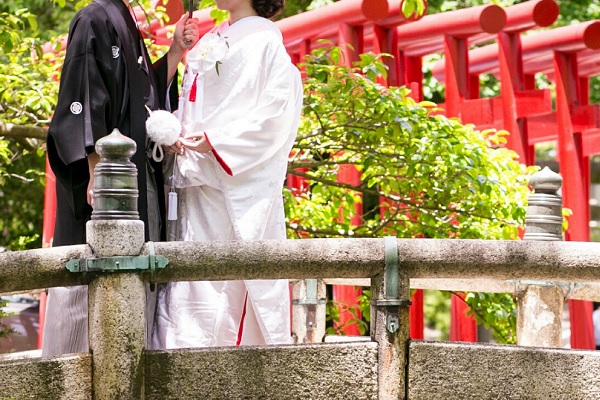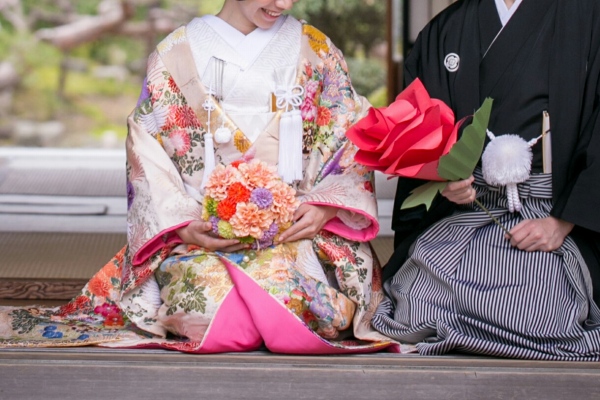 Select services what you need !
Rental Japanese Wedding Kimono
( Shiromuku / Irouchikake for the bride & Hakama Style for the groom )
Rental Wedding Dress & Tuxedo
Hair Styling & Make Up
Photo Data
Album
Photo Retouching
Video Shooting
Language Support
Planning fee : From 98,000 JPY